Women of Achievement Lunch 2022
sponsored by Rathbones
in aid of
The Outward Bound Trust
The best learning happens out in the wild
Who We Are
​
The Women of Achievement Lunch was established in 2008 to celebrate the achievements and contribution made in many varied fields by women who have Scottish connections. Our goal is to support small, but vital Scottish charities to make a big difference and to have fun doing it.
​
Over the last fifteen years we are very proud to have raised over £400,000 for Scottish charities. Extraordinary things are achieved by ordinary women every day and we could not have done it without our network, which has grown to over 1,000 Women of Achievement, and our committee who volunteer their time for free.
​
​
What We Do
​
Each year we raise money to support a chosen Scottish Charity.
​
Funds for each year's appeal are raised at our annual Women of Achievement Lunch held at the Caledonian Club in London in March, and also through sponsorship, advertising and through generous donations from charitable trusts and our network of ladies.
​
Thank you so much for all your support and for giving so generously to these very worthwhile causes.
Charities we have supported
Speakers
​
We are very proud of all the speakers who have spoken at our annual Women of Achievement Lunch. We have thoroughly enjoyed hearing about your achievements, and you have had us in stitches with many amusing stories shared with our network of ladies.
Thank you so much for supporting us.
Professor Heather
McGregor
The Committee
Lady Colquhoun of Luss
---
Kate has spent her life educating children. Firstly, as the founding Headmistress of Broomwood Hall which she started with 12 pupils in 1984, followed by Northcote Lodge, a boys prep school in 1983 and recently Northwood Senior, which opened its doors in September 2020. As Chairman of the Board of Northwood Schools, Kate oversees the education of over 760 pupils in South West London. In addition, as a Trustee of the Northwood African Education Foundation, she also helped to set up St George's School, which currently educates over 400 orphans in Gondar, one of the poorest regions in Ethiopia. She and her husband Malcolm have three children and three grandchildren and divide their time between Luss, in Scotland, and London. Her hobbies include walking, reading and flying.
---
Francine Douglas-Home, Co-Chair 2022
---
After Edinburgh University, Francine worked in the City for ten years before having children. Since then she has been working part-time in various capacities, most recently as COO of a small hedge-fund and she is currently working in a family office.
She is married to Tara and they have two teenage children.
She is the Chair of the Governors of a primary school in London close to where they live.
---
Lady Fuller
---
Venetia grew up in Scotland and now lives in Wiltshire with her husband James. Together they run their home Neston Park which has an organic dairy herd with the milk going to Ivy House, The Old Cheese Room and their own ice cream "Luscious".
Neston is also used for filming including Larkrise to Candleford, Poldark, Agatha Raisin, Persuasion, Four Seasons and The Other Wife to name a few.
---
Katharine Landale
---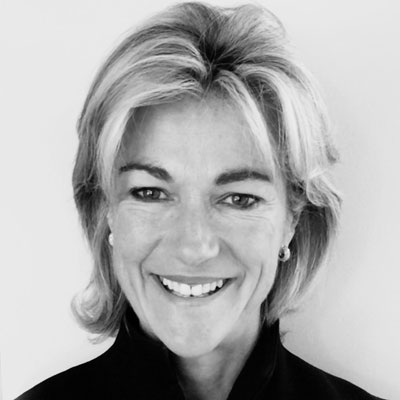 Katharine is delighted to be part of the Women of Achievement Lunch Committee, joining an incredible group of ladies who have raised significant amounts of money for Scottish charities. Katharine founded Bold New World Recruitment and Reskilling to help experienced people back to the workforce who may have taken a career break. BNW recruits for both full time and part time roles, including paid and charitable sectors. Additionally BNW offers in depth training courses to upskill small business owners, or anyone wishing to improve on their existing workplace knowledge. Before this Katharine's career was in Investor Relations with Citigroup and BNP Paribas in London and she has been involved with various charities including currently Tetbury Hospital and previously with Macmillan Cancer Support, Facing the World, MS Society, Home Farm Trust and The Cot Death Society. Katharine moved with her family from London to near Tetbury, Gloucestershire in 2005.
---
Lucy Liddell
---
Lucy was born in Ireland but moved to Scotland at an early age. She was educated and brought up in Ayrshire. She studied Interior Design and worked in the Interiors world before starting a family with her husband, Duncan. They then moved from London to Saffron Walden. Her three children are growing up and Lucy has had time to start a new career in Horticulture. She's studying with RHS and volunteers in the English Heritage Garden at Audley End, as well as working in other gardens.
---
Claire McCorquodale, Co-Chair 2022
---
Claire grew up in Cornwall, trained bilingually and then worked in London. She worked at Christie's and then trained as a Montessori teacher where she discovered her lifelong passion for education. She is married to James and they farm in The Borders. They have two teenage children. Claire fundraised at her children's local schools and has been involved in CLIC Borders where she helped raise substantial funds for the development of a Borders garden for CLICs new house opposite Edinburgh Royal Infirmary. Claire is now a volunteer for The Food Train, a charity that distributes food to the elderly and those sheltering.
---
Iona Murray
---
Scottish born and bred, lona was educated in Angus and studied History of Art at Edinburgh University and she dreams of moving back sometime in the future.
She began her career in advertising with nearly four years at Saatchi & Saatchi working on their flagship accounts HSBC and BT. She has now moved to Droga5, winner of international agency of the decade, with the hope to work on their accounts including Amazon, Coke, Barclays Bank and Facebook.
She has a wealth of experience in Financial Services and Telecommunications but hopes to expand this to FMCG and Tech. Her greatest achievement is working on the world's largest global campaign, HSBC airports, currently live globally from Los Angeles to Singapore with 97km worth of artwork!
In her spare time, lona advises small start ups on their branding and marketing strategy as well as being an avid foodie.
---
Carolyn Warrender
---
Mrs Francis Hazel has built her career with her innovative approach to interior design and colour. The author of four home decoration books she developed Laura Ashley's first Home Furnishings collections and launched the UK's first stencilling shop.
More recently she has focused on Retail Consultancy and using skills learnt throughout her career, and is now very active in local politics. She has two children.
---
Emma Weir
---
Emma was born and raised in Scotland until she moved to London after school to start her career. She set-up and ran a successful boutique headhunting business for 25 years which specialised within the financial markets and had offices in London, Hong Kong, Singapore, Tokyo and New York.
She also purchased Arisaig House in 2010 and her sister ran it as a hotel until 2020 when Emma retired. Emma is now running the house and holiday cottages as a rental business and sits on a number of Committees for charities.
---
Viscountess Younger of Leckie
---
Jennie is Executive Director of Development at King's College London and King's Health Partners (Guys & St. Thomas' Hospital, the Maudsley Hospital and King's College Hospital). She is also Non-Executive Chairman of the Centre for Process Innovation and an Advisory Partner of a private equity firm.
Prior to this Jennie worked for over 30 years in pharmaceuticals (GlaxoSmithKline and AstraZeneca) and in financial and professional services Deutsche Bank, FTI Consulting. BZW and Kleinwort Benson).
She is married to Viscount Younger of Leckie, a Government Minister in the House of Lords, and they have three grown-up children.
---
Alexandra Robson
---
Alexandra grew up in Scotland and has property in East Lothian. She attended school in Edinburgh, Esmod School of Design in Paris, Cambridge University (BA) and Stanford University (MA). She built a career with Accenture, becoming a partner in Consumer Goods and Retail. After a career break to raise their four sons, Alexandra founded and runs Augustine Jewels, a luxury jewellery company specialising in exquisite gemstones. Augustine Jewels was recently shortlisted for Jewellery Designer Brand of the Year.
Alexandra has a commitment to public service. She loves the decorative arts and charities that improve educational opportunities. She stood for Parliament in 2005 and has had various roles in the Conservative Party including Local Councillor and Cabinet Member for Education in Hammersmith and Fulham, the Policy Unit, Director of Women to Win to encourage more women to stand for Parliament and Head of Business Relations. She is currently a Trustee and on the Board of the Museum of the Home.
---
The Duchess of Argyll
---
Eleanor runs Inveraray Castle and Gardens in Argyll with her husband Torquhil. The castle is (usually) open to the public from Easter to October and is one of Scotland's most popular attractions as well as being used for various films and television programmes including Downton Abbey and Landscape Painter Of The Year.
Eleanor is also Chairman of the Historic Houses Tourism Committee, on the board of the Historic Houses, President of the Georgian Group, Patron of Richmond's Hope and Prior-elect of the Order of St. John in Scotland.
They have three children, Archie, Rory & Charlotte.
Previously Eleanor worked for Charles Barker Public Relations and Weber Shandwick.
---
Marina Novis
---
Marina grew up in the Surrey Highlands and has lived and worked in Sydney, Cape Town and New York and now lives in London with her husband and four children.
She works at SEO London, a diversity charity that prepares students from ethnic minorities and low socioeconomic backgrounds for career success.
Prior to this she spent ten years working in financial services, in Investor Relations at Prudential Plc and before that at PriceWaterhouseCoopers.
Marina also works as a volunteer interview coach at Smart Works in West London, helping provide interview support and coaching to women trying to get back into the workforce.
---
---